In Amsterdam wordt vanaf begin dit jaar een krachtige beïnvloedingstechniek ingezet om de verspreiding van reclamefolders tegen te gaan. In de meeste gemeenten krijg je wel reclamefolders in de bus, tenzij je een 'NEE' sticker hebt. In Amsterdam krijg je geen folders meer thuis, tenzij je een 'JA|JA sticker' op de brievenbus hebt. De default keuze is omgedraaid. Ik verwacht dat er op korte termijn nog maar weinig folders worden gedrukt voor Amsterdam. De default keuze is de standaard keuze wanneer je geen moeite doet. Zonder het te weten zit ons leven vol met default keuzes, en daarmee beïnvloedingen van ons gedrag. Beleidsmakers en ontwerpers beseffen onvoldoende dat ze dit instrument heel goed kunnen benutten voor duurzaam en gezond gedrag.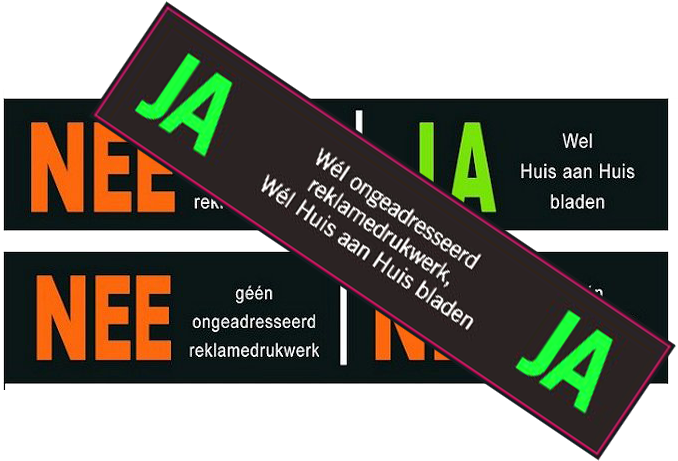 Mensen kiezen default als ze niet willen nadenken
Mensen kiezen impliciet graag voor een aangeboden standaardoplossing. Met name voor onderwerpen waar mensen liever niet teveel over nadenken gaan mensen graag mee met de standaardoplossing. Dat betekent voor bijvoorbeeld beleidsmakers, ontwerpers, managers en bestuurders dat ze moeten zorgen dat de standaardoplossing ook de meest duurzame, gezonde of veilige keuze is. Want dit zullen verreweg de meeste mensen uiteindelijk (passief) kiezen. In sommige gevallen kan je ook het ongewenste gedrag verbieden, maar dit kan weerstand veroorzaken bij de betrokkenen. Door een default aan te bieden, hebben mensen toch keuzevrijheid. Dit verminderd weerstand aanzienlijk.
Mislukte default bij verhoging donatie
Een default keuze is niet altijd succesvol. Greenpeace heeft in 2013 getest of ze een deel van de donaties eenvoudig kunnen verhogen. Er werd een brief verstuurd aan donateurs waarin werd aangekondigd dat zonder tegenbericht van de ontvanger, de donatie omhoog zou gaan. Er ontstond veel protest en Greenpeace heeft de test geen vervolg gegeven. Het aanbieden van een standaardkeuze is alleen succesvol als het onderwerp mensen niet te veel raakt.
Vegetarische lunch als default
Medio vorig jaar heb ik samen met onder met Rijkswaterstaat en Milieu Centraal een werkbijeenkomst over afvalscheiding georganiseerd. We wilden er een duurzame dag van maken. We hebben in de uitnodiging aangegeven dat er een vegetarische lunch wordt klaargezet en dat mensen eventuele dieetwensen kunnen doorgeven. Uiteindelijk hebben ruim 50 deelnemers genoten van een (heerlijke) vegetarische lunch. Slechts twee personen hebben gevraagd om vlees bij de lunch.
Default in ontwerp, zie je de trap of lift
Niet alleen in communicatie is een duurzame of gezonde default van belang, ook in het ontwerp van openbare ruimte en gebouwen. In de meeste bedrijfsgebouwen zie je bij binnenkomst een lift die je naar de gewenste verdieping kan brengen. De trap is veelal verborgen en onaantrekkelijk. Dat betekent dat in deze gebouwen de meeste mensen automatische de lift zullen nemen. In moderne gebouwen zie je steeds vaker dat de trap een default is geworden. Door de trap goed zichtbaar en aantrekkelijk te maken en de lift iets verder weg te plaatsen zullen veel mensen vaker de trap nemen en daardoor meer lichaamsbeweging krijgen.
Komt de omgekeerde default voor orgaandonatie door de eerste kamer?
Het slim aanbieden van een default keuze is een slim beïnvloedingsinstrument waar ik in mijn werk graag gebruik van maak. Er zijn er inmiddels succesvolle toepassingen voor uiteenlopende thema's zoals OV gebruik, Leaseautokeuzes, energie gebruik, afval, gezondheid en veiligheid. De meest in het oog springende default keuze van deze tijd is de keuze met betrekking tot orgaandonatie. De Tweede Kamer besloot onlangs dat mensen die niet bewust kiezen om geen orgaandonor te zijn, voortaan automatisch wel orgaandonor zijn (na meerdere oproepen om zelf een keuze te maken). Het heeft tot enige consternatie geleid. In de meeste Europese landen om ons heen is dit echter toch een succesvolle oplossing gebleken voor het helpen van mensen die met spoed op een orgaan zitten te wachten. In onderstaande figuur zijn de landen met een 'Nee tenzij …' (Opt in) en 'Ja tenzij …' (Opt out) weergegeven.
De wet moet nog worden behandeld door de Eerste Kamer. Bij een normale behandeling verwacht ik dat tegenstanders van de nieuwe wet zullen winnen als veel aandacht uitgaat naar keuzevrijheid en keuzebekwaamheid. Hierdoor wordt het onderwerp controversiëler en zullen behoudende partijen tegenstemmen. Voorstanders zullen winnen als de discussie vooral zal gaan over solidariteit en hulp aan mensen die het nodig hebben (b.v. via sociale normen) en als overduidelijk is dat de keuzevrijheid niet ter discussie staat minder weerstand) en de overheid in beide gevallen een default keuze vaststelt.